With the arrival of warm weather, many people are thinking about how to transform their outdoor spaces into something amazing yet still practical. The good news is that there are many ideas to achieve this goal on all budgets. 
Adding outdoor features can be a terrific start. You can go for a pool, an outdoor kitchen, or even simply hiring a landscape designer to start your outdoor home improvement project off on the right path.
Read on for details on 7 outdoor features to take advantage of your backyard this year! 
"When something is important enough, you do it even if the odds are not in your favor." – Elon Musk
Install a Gorgeous Swimming Pool to Keep Everyone Cool
When the summer weather begins to heat up, people suddenly realize how much they need their own backyard pool. In fact, at this time of year, swimming pool installation jobs keep all available pool specialists busy keeping up with the extra work.
A gorgeous home swimming pool can help keep everyone cool and having fun from now until the end of the season. The installation of a custom-built pool can raise your property value as an added extra incentive, and it's an investment that your family and friends will enjoy for years and years. 
Add Warmth by Utilizing a Fireplace or Fire Pit
Perhaps you enjoy sitting around a warm crackling campfire at the end of a long and fun summer day. Why not make your outdoor lawn even better by installing an in ground fire pit or an outdoor fireplace?
This is a fantastic outdoor feature that will keep you and your guests warm and toasty even on cooler fall days. Adding some outdoor heat can extend the time period for using your beautiful outdoor spaces.
Design the Ideal Outdoor Lounging Areas with Comfy Furniture
No outdoor home improvement project is ever complete without designing the ideal lounging areas and adding some comfy furniture pieces in the seating arrangements of your choice. Remember, large and plush sofas and chairs can create that luxurious resort feeling without having to leave home.
Look for water repellant and easy-care fabrics that have already been treated to help prevent sun damage over the course of months and years of use.
Consider Installing a Beautiful Deck to Expand Outdoor Living Space
A simple method to extend your indoor living entertaining spaces outdoors on nice evenings is to consider hiring a local contractor to complete a new deck installation. This is a home remodeling project idea that should not take much time, effort or cash in hand, and greatly boosts your home's value.
If a stunning wooden deck isn't a possibility right now, consider installing a pergola instead. This structure provides some protection from the sun, rain and outdoor elements. Add your preferred grill to the mix to encourage more family gathering events like children's pool parties, special occasions, holiday parties and more.
Design a Custom Outdoor Kitchen & Dining Area
The family that likes to play together all day in the backyard will also likely get hungry together too. Design a custom outdoor kitchen and dining area. This is a smart investment that can make throwing outdoor parties and other social events so much easier for the hostess/host. 
Consider speaking with a professional landscaper to get an idea of the many options available at your price range.
Install Layers of Mood-Enhancing Outdoor Lights for a Welcoming Glow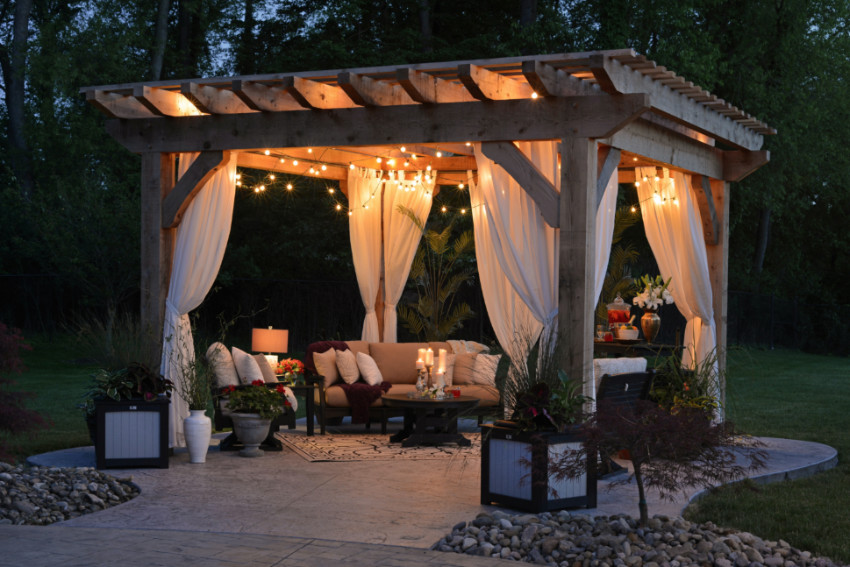 Any backyard dream makeover would not be finished without installing beautiful layers of softly glowing outdoor lights to instantly create the mood of your choice anytime. This is a wonderful way to give your outdoor spaces some much needed glow and a welcoming atmosphere.
Along with the proper lighting, take some time to consult with an expert landscape design artist to customize your envisioned outdoor landscape style that will leave guests speechless at first sight.
Try to showcase your property's best landscaping features for a terrific result that looks well thought out and artistic. Consider lighting up your walkways with solar-powered low lights, and the addition of a pretty and timeless gazebo is an easy way to dramatically raise your home's curbside appeal factor.
Add Wireless Internet & a TV/Movie Theater with Stereo Sound
Now that all the hard work is done, add some convenient features to your outdoor paradise by installing wireless Internet connection, a TV/movie theater to be viewed outdoors and stereo sound system using easy-to-operate portable speakers to get the party going and to provide the beat for dancing in the dark with your favorite sweetheart.
Any of these 7 great outdoor features will give your tired outdoor areas a new look that will help make outdoor entertaining a breeze this year. 
---
Consult with a local landscaper to plan your perfect backyard retreat. These experts can give advice on what it will cost to build a pergola, install a pool or landscape the grounds to meet your style preferences.     
MORE FROM HOMEYOU
7 Summer Decoration Ideas For a Relaxing Staycation
How To Boost Your Curb Appeal On a Budget
Here's Why a Landscape Screen Is Perfect for Your Yard