The days of getting up when you need to check the front door or turn on the washer are a thing of the past. Thanks to new smart features, you can now make your home work for you. Check out some of the hottest smart home trends for 2022 to see which ones would be great for your home! 
Video Doorbell
With a smart doorbell, you can see who is at the door before you even get off the couch. You can use the doorbell with or without a full security system, that's up to you and your home's needs.
Depending on the model you prefer, you can even have an option to record the images for some time. 
Thermostat
A nice feature that you can easily add to your home is a smart thermostat. Once you download the app that works with it, you can change the temperature in your home whenever you want, simply using your phone. 
You might turn the temperature down to save on heating bills while you're at work in the winter and bring it up to make your home comfy by the time you return.
Locks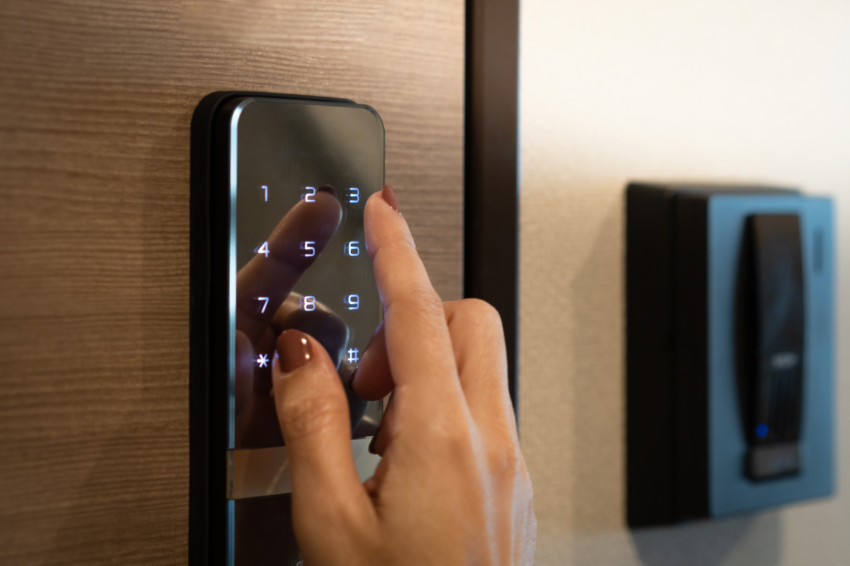 Have you ever lost your keys and found yourself stuck outside until someone else came home? Smart locks save you from keeping a spare key outside, which thieves can easily find. 
The lock uses electronic keys that only those who have can enter your home. You can even set up temporary codes for cleaners and visitors.
Smoke Detectors
The best smart home system should include multiple smoke detectors. As smoke rises, you may not realize your home is on fire in the middle of the night until it's too late. 
New detectors monitor your home 24/7 for any signs of smoke and will immediately alert you. You'll hear a loud alarm that sounds throughout your home to make sure you have time to get out. Some systems will even contact the fire department for you.
Shades
Shades and blinds are a good way to block out the sun and light outside. Opening and closing the shades every few hours can be a pain, especially when you just want to relax on the couch while watching Netflix. 
Smart shades allow you to control them from anywhere in your home and even when you're outside with an app on your phone. Don't remember if you closed the blinds in your home office? Simply grab your phone and check it out. 
Toilets
One feature you may not consider is a smart toilet. These toilets keep you clean and help you save time. 
With one touch of a button, you can turn on the cleaning cycle and let the toilet clean itself within minutes. Many of these toilets use as little as 1.28 gallons of water per flush to save you money. They also have lights that automatically come on when you lift the lid. 
The benefits of smart home features such as these are that they help you save time and money, as well as creating a new level of comfort and convenience that you didn't even know you needed.
Touchless Faucets
More people became worried about germs during the COVID pandemic, which led to an increase in sales of touchless faucets. Designed for both bathrooms and kitchens, these faucets allow you to turn the water on and off without touching them. 
They come on automatically when they detect motion. Some even have built-in soap dispensers.
Appliances
The best smart home devices include some of the nice appliances on the market such as refrigerators. You can snag one that lets you see the contents inside without opening the door and set up individual temperature sections for areas inside. Some even work with your phone and let you send grocery lists to your device. Smart washers and dryers are also available.
Security Systems
As you consider new smart home technology trends for 2022, don't forget about complete security systems. 
They come with features such as alarms that sound when someone tries to break down your door or climb through a window. You can add lights that come on at the first sign of motion and alarms that alert the police of intruders. 
With one or more of these smart home trends, you can make your home safer and more convenient.            
Carbon Monoxide Detectors
Carbon monoxide is just as dangerous as smoke, but you may not even know you have a gas leak in your home. Exposure to this gas can lead to confusion and make you sick. With a smart carbon monoxide detector, you'll know that there is a leak at the first sign of the issue.
These detectors continually monitor your home and do not require that you do anything special. They can alert you through noises or lights and send alerts to linked devices.
Want to install a smart home device in your home? Contact a local electrician to help you with any projects you need!
---
MORE FROM HOMEYOU
How to Make Your AC Work More Efficiently
6 Tips To Keep Your Home Clean and Free From Coronavirus
Home Design Tips That Will Improve Your Well-Being