Your deck can be the face of your house. It's one of the first things that people see when passing by your property and it's a great way to boost curb appeal and show off your aesthetic in the outdoor perimeter of your home. The railing, in particular, is what adds style to the space, so it needs to be well planned to complement your house's look.
If you're looking for inspiration on deck railing ideas, you've come to the right place! Keep reading to find out some of the best and most creative options you can easily add to your home!
"Let us always meet each other with smile, for the smile is the beginning of love. – Mother Teresa
Wood Deck Railing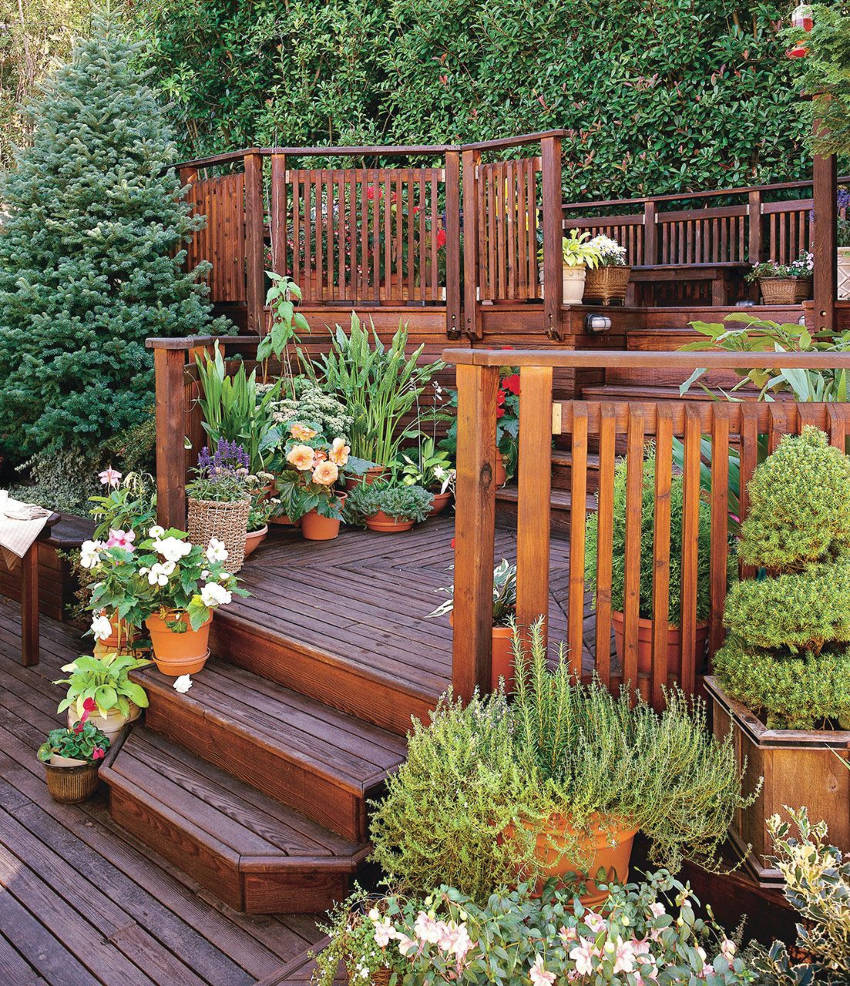 This stunning wood deck railing design finished with a unique red-toned stain perfectly complements that natural look, being the perfect contrast to the greenery in the environment.
Of course, you could always switch up the stain color to suit your individual preferences, but the best part about a stained wooden deck is that it offers an opportunity to show off that beautiful garden you've been working on for the whole spring. 
Deck Stairs
Stair railings add convenience and a safety factor to your outdoor entertainment space that wasn't there before. 
This is a great example of good quality deck railing installation, complete with aged bronze metal rods, which are installed horizontally for creative interest. 
You'll notice that this railing also features smaller, angular-shaped vertical posts for added support and dimension, which makes the design more complex but also more visually interesting.
Lattice Design
Lattice railing designs are incredibly popular and it's not hard to see why. It offers added dimension to any space while providing stylish privacy. 
However, this can be a bit too traditional of a design for many, but you can always customize it to your unique personal preferences. 
Built-In Seating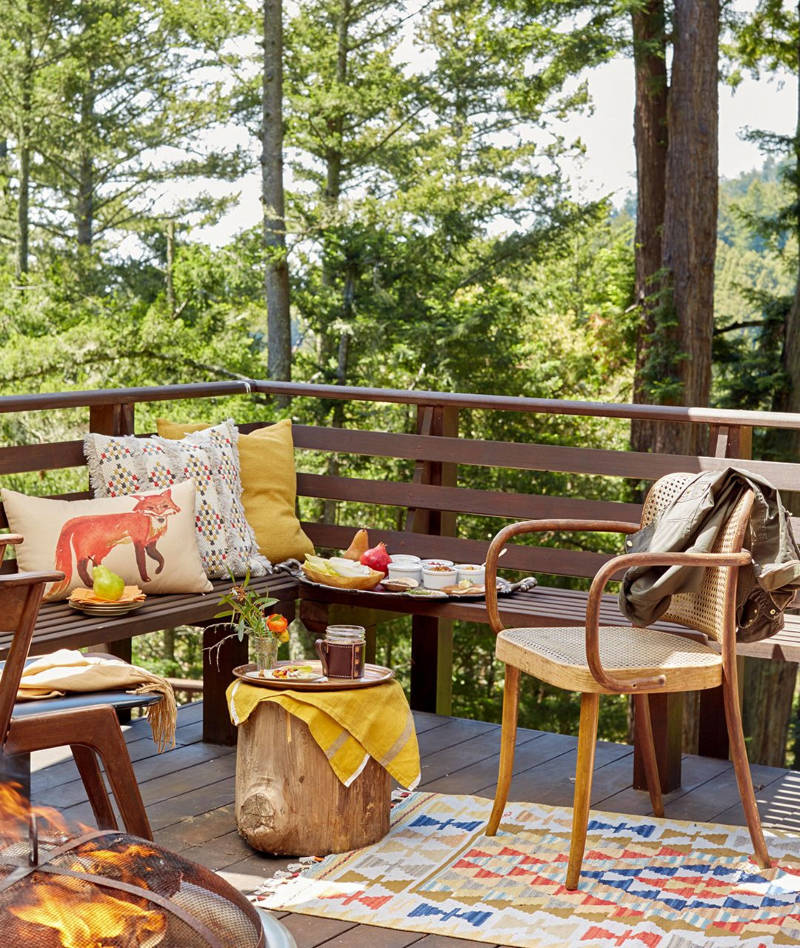 There's no denying that wood deck railing is aesthetically pleasing, but it can also serve a practical purpose. 
This particular version is created with a backrest that's made from horizontal slats which makes for a makeshift sitting bench. 
It's the perfect place to sit after a long day and it provides extra seating when entertaining outdoors. 
Matching Colors
The thing about simple railing designs is that they offer an opportunity to show off the landscape you've worked so hard to have, so that you and others can enjoy it too. 
The white color of the railing complements the window casings of the house which the accent balusters give it a boost of charm. 
Mixed Materials 
There's so much you can do to add interest and style to simple deck railing designs, as evidenced by this unique design above. 
Just look at the use of different materials and colors to create something so unique and eye-catching. 
It's definitely not for the faint of heart but it's perfect for anyone that wants to add an eccentric element to their outdoor decor. 
Transitional Deck 
Don't you just love the combination of traditional and modern? Here, this idea is transformed in the mixture of wood and slender metal, which ends up being a match made in heaven. The look is achieved by placing metal slats in between the wood railings both at the bottom and top parts. 
This results in a classical yet modern minimalist design that looks good in basically any deck! 
Metal and Glass 
There's no better way to make a personal decor statement than with a combination of different materials to create a unique deck railing style. 
This is perfectly shown in this interesting idea above, which offers various areas of interest including different panes of break-resistant and opaque glass fixed in a metal frame. 
Not only does it offer added privacy, but it reflects natural light beautifully. 
Stylish Option
The placement and spacing of railings are partially determined by your local building codes. However, once you've determined what these are, you can go ahead and let your imagination run wild and go for whatever materials spark your interest. 
This is exemplified in this modern idea which is made from a combination of round metal top pieces, cable railings, and thick vertical supports. 
Decorative Look
There's no better way to update a boring wood deck railing than with creative end caps in a fun pattern. When placed inside the rails, this creates an added dimension of interest and transforms an old boring look into a brighter style.
Monochromatic 
Another way to complement your deck is to use different materials on the railings, but leave the colors for the furniture themselves.
It serves as a nice background that still looks very interesting, but doesn't clutter the look of the entire deck. 
Deck Railings in Different Heights
Another aspect that plays a role in the type of railing design that you choose is the way your deck is set up. For instance, you might need added visual screening and privacy if you have shared side yards. 
This is exemplified in the tall trellis that we see above, which is complemented by these cascading vines that aren't only beautiful but practical as well. 
Ready to start your deck railing installation project or simply want to repair yours? Then contact a local pro and request a free quote! 
---
MORE FROM HOMEYOU
6 Ways To Keep Your Garden Low-Maintenance
How to Create a Neighborly Front Yard in 7 Ways
Coronavirus: How To Maintain a Good Indoor Air Quality at Home