Before I tell you which colors are better to make the small spaces in your house look bigger and brighter, I think you should consider a few tips on how to make a room look bigger than don't involve the painting job. For example:
Using clever contrasts with decoration
Natural light to open up spaces
Getting rid of clutter
Adding smartly placed mirrors (and frames that match the color of the walls)
Creating better furniture arrangement
These are some simple tips that will do wonders for your small home. However, they can do even better when you add the best paint colors that will make your rooms look bigger too. Not only bigger, but cozier and more inviting to spend time in! Check out what are these colors!
"Life is like a rainbow. You need both rain and sun to make its colors appear. - Unknown
Shades of blue
For each color available there are lots of shades you could use. Blue is one of the colors that every single shade can be used to create a more welcoming room in your house. It'll only depend on the energy you want to bring inside the room.
For instance, in the laundry room you can use a sky blue to make the place more airy and the activity of doing laundry less of a burden. In addition, the sky blue hue is also great to add to your bedroom walls, it'll make you start your days with a lighter mood every morning.
In the living room, however, you can use a dark blue to create a statement and you don't even need to worry about it being too bold because since the room is small, the darker tone won't feel overwhelming to the eye.
Greenery
Green is the best color to add to your home and bring a bit of nature inside. Even if you're not a fan of nature itself and don't like to spend time outside, you can't deny green is a soothing color, right? It'll be a great pick for your small kitchen, especially if your windows lead to a garden view. You can even mix it up and play with the shades, like combining dark green cabinets with lighter green walls. It'll definitely create a unique and amazing look!
Gray
Gray is the color to make your home look modern and sophisticated while making your room look bigger. Of course, there are many shades of gray and if you want to make a small space look bigger, you'll need to choose a shade that has some luminosity. Try to avoid matte finishes for this purpose.
Purple
Using purple can be risky, but if you want a fun and creative home, it'll be a great choice for small spaces. A lighter tone of purple such as liliac would look great in your bedroom - royalty style! Besides, these places could benefit from a pop of color with purple hues:
Entryway
Playroom
Laundry room
Yellow-ish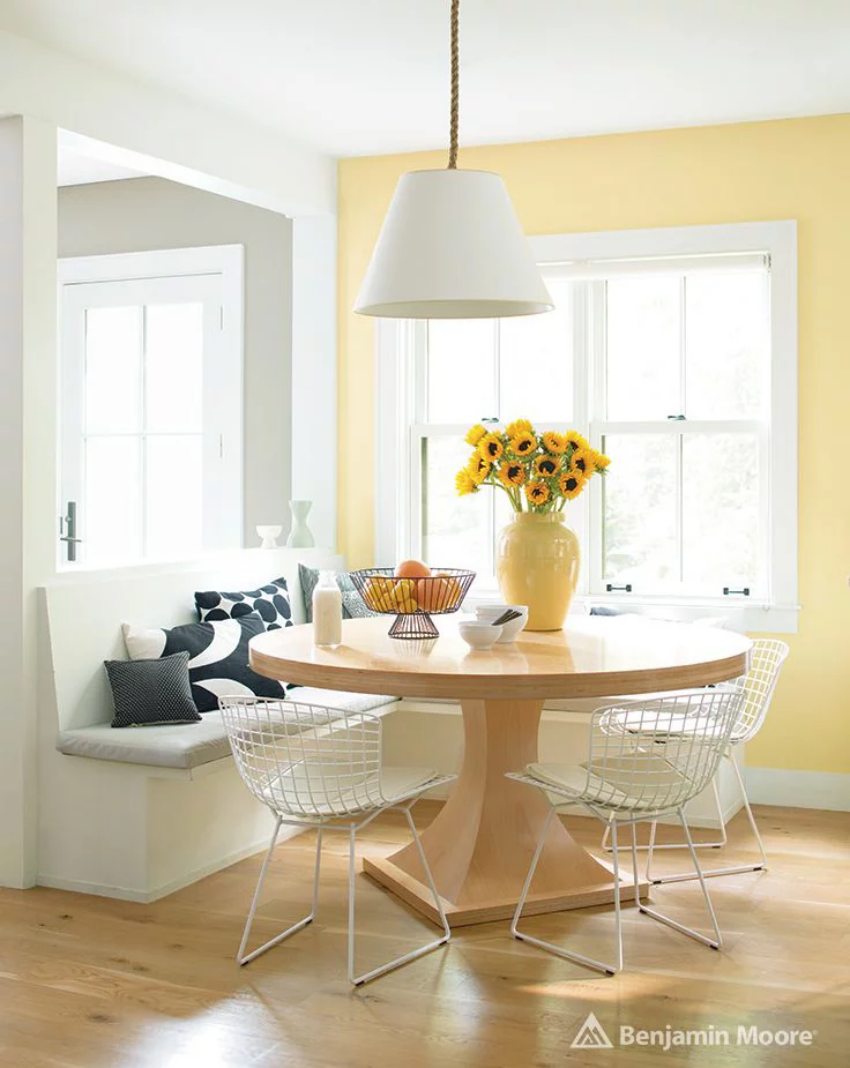 Yellow is the best color to add to rooms that receive a lot of sunlight during the day - especially in the morning. There's nothing like getting the day started with that warm heat embracing you, right? When I say yellow-ISH it's only because you don't want to go too bright with the shade of yellow you pick, softer tones will be a better choice in this case.
Which rooms will receive this color better?
I'd say: mudrooms, playrooms, and breakfast nooks!
You can sunny up and create lovely rooms by painting the walls or creating accents on doors and window trims, for example.
Beige and Off-White
Both beige and off-white are options for people who want to innovate their homes, try something different than basic white, but don't feel like going too bold with the paint color choice. These two colors are neutral and will give your room a cleaner look, but make sure to avoid using too much decoration in order to avoid creating a cluttered look since that will break the whole effect the colors bring.
You can even combine these two colors and bring warmth to the room in question, I simply love these two in living rooms, mudrooms, and dining rooms!
Orange
And talking about dining rooms, I can never say this enough: orange is the best color to add in a dining room. Mainly if you have a lot of dinner parties with family and friends.
Want to know why?
That's simply because of color psychology! Orange is a color that brings energy and makes people more talkative. So you can see why it'd be great to add it to the dining room, can't you?
You don't need to pick a super bright orange, it can be something a bit "lighter - that way you'll have boldness without overpowering anything. But make sure to combine it with earthy hues, that way your dining room will become inviting and really welcoming.
What's your favorite paint color for small spaces? Get a free quote to start your painting project!