Wood decks come in a variety of sizes as well as designs. While you might think of these decks as the square or rectangular ones that you see attached to the front of homes, decks come in many other designs and fit many different needs. 
However, one thing most of them have in common is the wood used in their construction, and no matter what type of deck you have, you need to either seal or stain the wood to keep it in good shape. Wondering why? Take a look at the top five reasons why you need to stain or seal your wood deck! 
"What lies behind you and what lies in front of you, pales in comparison to what lies inside of you." – Ralph Waldo Emerson
Prevent Cracks
A common reason to use wood stain and sealer is to prevent cracks. Unsealed wood boards have nothing to keep the surface from absorbing water. Not only do you need to worry about snow and rain, but you also need to worry about any liquids and drinks that your family or friends spill on the deck. 
That's because unsealed wood will slowly absorb the liquid and let it move through the board, and it will swell to accommodate the liquid, causing the formation of cracks. Sealing or staining the wood creates a waterproof barrier on the surface of the boards.
Stop Moisture Damage
Cracks aren't the only type of moisture damage that your deck can experience. If you live in a cool climate, you need to learn about the freeze and thaw cycle. This occurs when the temperature changes rapidly in a short period. Snow and ice melt when the temperature rises and freezes as it drops. 
This allows the deck to absorb that moisture and suffer damage as the liquid freezes on the surface of and inside the wood. Excess moisture can also lead to the growth of algae, which usually appears as a type of blue or green substance that forms on the wood.
Preserve the Wood
The biggest reason to use a wood deck sealer is to preserve the natural look of the deck. When you add a deck or a porch to your home, you'll likely spend some time choosing the right design and picking the best type of wood to use. 
You might pick wood that is sturdy and can stand up to your family needs or one that has a gorgeous natural look with a nice grain pattern. Using a wood stain can change the color of the wood and also protect it. 
If you want to enjoy the natural look of the wood and ensure that your deck still looks great years from now, you'll want to go with a sealer.
Avoid Rotting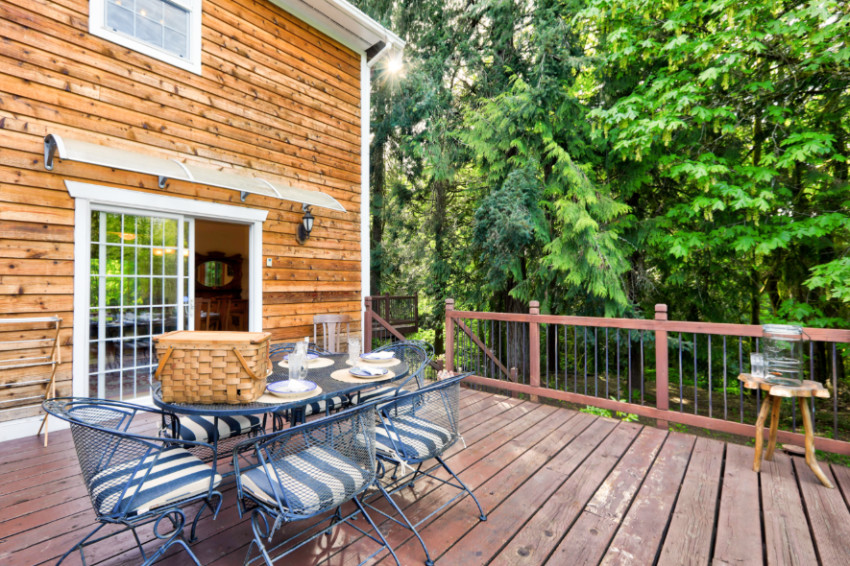 No matter what type of wood you use for your deck, you want to avoid rotting, which is why deck sealing is so helpful. Often caused by excessive moisture, wood rot makes the wood look and feel soft to the touch. You might notice that some sections of the deck have splinters that peel away from the boards. 
Wood rot can also set in below the deck and in places that you cannot see with the naked eye. It can spread through the deck and eventually cause it to collapse. This is another reason why staining and sealing is so important, since they prevent rot from settling in in the first place. 
Help with Sun Damage
Have you ever noticed that a neighbor's deck went from looking like the ultimate hangout spot to a tired area within a few years? This probably occurred because your neighbors did not seal or stain the deck, which allowed the sun to damage the wood. 
As much as UV rays can damage your eyes and skin, they cause as many problems on decks. The sun can both wear down the wood and damage the internal structure of the boards. You may find that it can also change the original color of the wood. 
Deck staining is one of the easiest ways to prevent those damages and discoloration.
Deck Sealing vs Staining
You likely have some questions about sealing and staining such as which one is best for you. 
Sealing allows you to add a clear protective coat to all of the wood used in the deck. You can also use a clear sealer on top of the stain that you choose. 

Staining a deck allows you to pick from dozens of colors to breathe new life into your deck. You might pick a cheaper type of wood to save some money on your construction costs and then add a stain that makes it look like a different type of wood. 
Both wood stain and sealer are available from home improvement stores if you want to do the job yourself. You'll also want to pick up an electric sander or sandpaper and brushes for applying the sealer or stain. 
Contact a local deck contractor to help you pick the right stain color and schedule a day to get the service done. 
---
MORE FROM HOMEYOU
The Essential Guide On Adding a Porch To Your Home
How To Power Wash Your Deck The Right Way
10 Outdoor Patio Shade Ideas For Every Budget